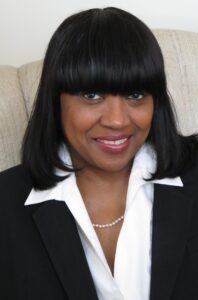 Dr. Jamyce Curtis Banks, CEO and Lead Consultant of Whatever It Takes Consulting, Inc. is an experienced organizational development consultant providing interactive learning and training to organizations for over 25 years, including 15 years of leadership experience.
Dr. Banks established Whatever It Takes, Inc., (WIT) a certified minority and women owned business enterprise, to provide customized learning support to organizations including strategic planning, board training, leadership and team coaching, organizational performance evaluation and support for the development of culturally responsive individuals and work environments.   She is qualified to provide support in the development of culturally responsive environments, in part, as a certified facilitator for Cultural Intelligence (CQ) through the Cultural Intelligence Center.
Dr. Banks has provided effective, customized professional development workshops, trainings and coaching that are highly engaging and has been a workshop presenter and keynote speaker at the local, state, and national levels on topics related to organizational development including equity, diversity and inclusion, unconscious bias, cultural intelligence (CQ), and culturally responsive practices.  She has also served as Adjunct Faculty in the College of Education at Butler University and is also an author in the book "Affective Doman:  Instruction, Impediments, and Implications for Assessment".  The focus of her chapter is the impact of culture on the development of affect and the application on teaching and learning.
Dr. Banks serves and leads in a number of professional organizations including Executive Committee of the Board of Directors of the National Association of Women Business Owners (NAWBO) Indianapolis as President Elect and Chair of the Diversity, Equity and Inclusion Committee, Corresponding Secretary of the Omega Chapter of Delta Kappa Gamma International Society, a member of The Women's Fund Sage Society, a Pass The Torch For Women Mentor,  and a member of Delta Sigma Theta Sorority, Inc. where she has served at the local, regional and national levels.
Dr. Banks has been recognized for leadership and accomplishments as the recipient of awards including the Delta Kappa Gamma Greenleaf Scholarship, the Independent Colleges Realizing the Dream Award, the Human Rights Award for Outstanding Leadership, the Center for Leadership Development Distinguished Achievement Award in Education, recognition at the YWCA Salute to Women of Achievement, the Pass The Torch For Women 2017 Entrepreneur of the Year Award and the Indiana Wesleyan University 2021 Distinguished Alumni Award.
Dr. Banks is the proud wife of Carlos E. Banks and mother of Carlos E. Banks, II and Curtis L. Banks and grandmother to Carlos E. Banks III.